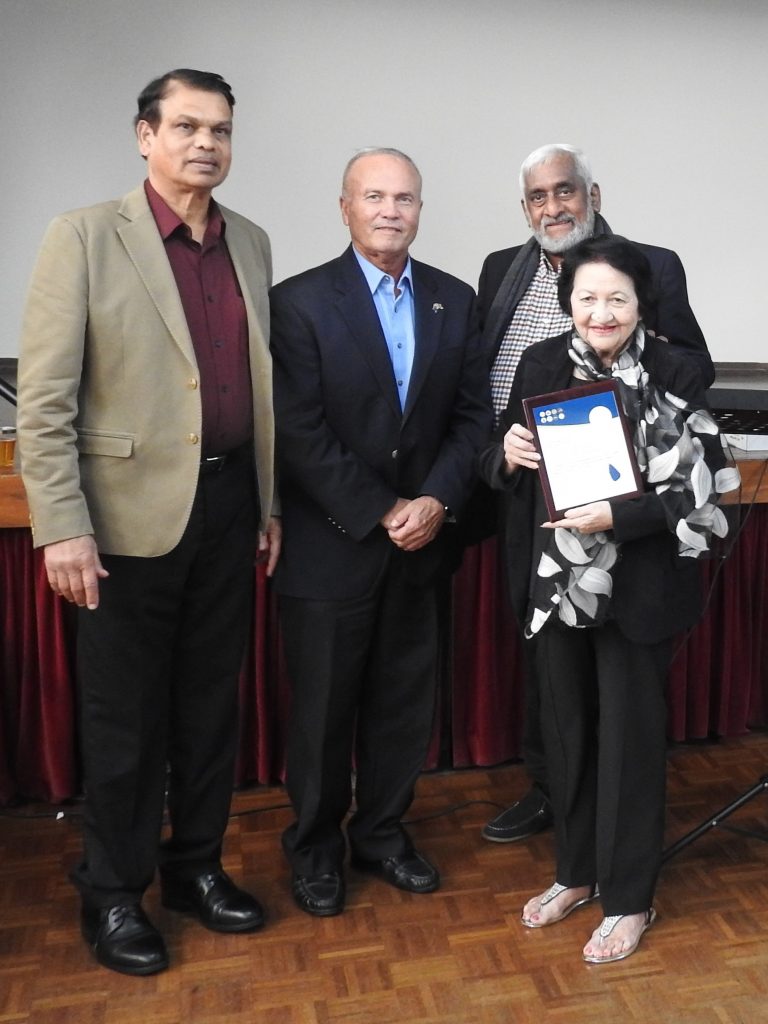 A $50.00 a head fundraising lunch for 50 guests hosted by Rena Henderling, in partnership with the Federation of Sri Lankan Organisations of Queensland, raised $3450.00 for the hospital beds appeal so generously supported by the Sri Lankan community in Brisbane.
The buffet luncheon of hoppers and range of curries, held on June 27 at Mitchelton, was a sell-out as soon as it was advertised – a testament to Mrs Henderling's fundraising skills. She has championed many causes over the past few decades, and as a token of its gratitude the FSOQ presented Mrs Henderling and her son, Jeremy, with a specially designed plaque for their selfless work in helping the wider community here and in Sri Lanka.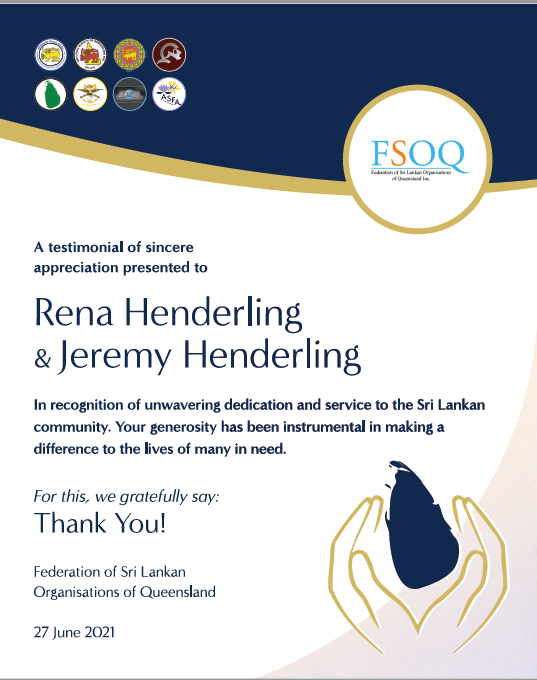 The funds bolstered the total collected in the FSOQ's beds appeal to $44,380.50.
FSOQ immediate past president Jayantha Pathikirikorale said the fundraising venture had been a huge success, thanks to the generosity of many who instantly responded to the appeal to send desperately needed hospital beds to the ICU wards in Sri Lanka.
The appeal was initiated in mid-May following a plea from Sri Lankan doctors, who said there was a critical shortage. The original appeal target was $21,000 to ship 350 beds, but with funds exceeding this, 720 beds in 12 containers will be despatched to Colombo.
"Rena and Jeremy's support through the years has been greatly influential in accomplishing our goals at the FSOQ," Mr Pathikirikorale said.
"It is worth mentioning that the last function by Rena for the FSOQ was for the Victims of the Easter Bomb appeal – $4060.00 collected from a lunch hosted by Rena and Susan Fahir on July 19, 2019, for 35 guests. There were many who contributed gifts for a raffle and donated money on this occasion. The total amount of $13,060.00 was forwarded to the Foundation of Goodness to support victims at the Zion Church in Batticaloa.
"As this project is an ongoing one, we will keep the campaign open. Over the last eight years we have sent more than 3000 beds to the Ministry of Health in Sri Lanka, serving emergency and ICU wards in hospitals all over the island, including Jaffna, Batticaloa and Vavuniya.
"My sincere thanks to all for their continued support."
https://www.fsoq.com.au/galleries/uncategorized/hoppers-on-the-menu-as-lunch-adds-more-funds-to-hospital-beds-appeal/